This is another one of those pages that can be very difficult to do, but really needs to be done. I have done several of these types of pages over the years and they can very simple, like the one I posted today, or more involved. When my FIL passed away, he was buried in a cemetery on a mountain top in Casper, Wyoming. They still used the lariats to lower the casket into the ground. I took pictures of all of that and scrapbooked it. It isn't something that you get to see every day. I also did a page for my son about my Aunt Melba. She died before he turned 1 and I wanted him to get to know her and how special she was. (This page was very difficult! It took longer because I had to keep wiping the tears away so that they wouldn't get the page wet!) I've also done one for our dog that we had for 15 years. You can include pictures, obituaries, favorite memories, whatever you want to remember your loved one with. There is no right or wrong to these types of pages.
This page that I am posting today, is a friend that we knew from church. He was only 32 years old. I made a clear pocket out of a portrait sleeve to put his funeral program and a very nice write up that the youth minister did on him into. This way the articles could be taken out and read. I made the pocket clear so that you could see his picture. I used the Gypsy Font and welded my title together and shadowed it. I used StoryBook to cut the accents for the sides of the pocket to keep them sealed. I added the journaling box to tell how we knew Juan and why he was important to us. The paper and portrait sleeve are all CM.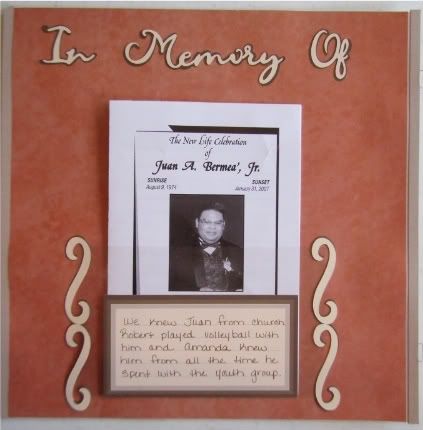 This page just happens to work for a layout challenge over on the
Paper Crafting Mania
message board. This is a new board with several great ladies, you should check it out and join in the challenges!